Something to Sing About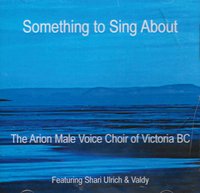 The Arion Male Voice Choir has now amalgamated with the Victoria Male Voice Choir. The director of the combined group is Alan Whitmore.

As a partial settlement for the early termination of my agreement with Arion, I obtained the remaining inventory of "Something to Sing About", a CD made by the choir in 2013. It features 8 of my vocal arrangements and includes guest solos by Shari Ulrich and Valdy. The CD is a celebration of Canada through folk songs and is modestly priced.
The Music
1. Something to Sing About - Oscar Brand. arr: Carl Tapscott
2. Put Your Hand in the Hand - Gene MacLellan. arr: Peter Dent
3. The Mary Ellen Carter - Stan Rogers. arr: Peter Dent.
4. On the Grand Banks - Trad. arr: Howard Cable
5. The Log Drivers Song - Mac Beattie. arr: Peter Dent
6. The Whoo Eee Man - Homer Hogan. arr: Peter Dent
7. Dans Tous Les Cantons - Trad. arr: Sir Ernest McMillan
8. Alberta Bound - Gordon Lightfoot. arr: Peter Dent
9. Summer Wages - Ian Tyson. arr: Peter Dent
10. Where the Fraser River Flows - Joe Hill. arr: Peter Dent
11. One Day in Your Life - Neil Osborne. arr: Kevin Ramsay
12. Rock and Roll Song - Valdy Horsdal. arr: Peter Dent
13. Every Road - Shari Ulrich. arr: Shari Ulrich

Contact and Purchase Information