A Canadian Requiem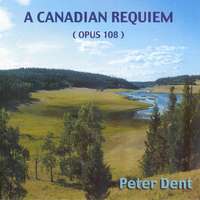 A Canadian Reqium was composed over two summers: In August 2002 and 2003 in the home of Mrs. June Swenson, a resident of 108 Mile Ranch in the Cariboo Country of British Columbia.

The desire to write a requiem came as a result of the death of my father in 1993. Several years passed before I felt able to compose a setting of the Requiem text. For me a Requiem is for the grieving, a comfort for those who mourn the passing of a loved one. I have intentionally omitted the "Dies Irae" and the "In Paradisum" sections.

A Canadian Requiem is intended for concert performance. While several sections may satisfy the textual needs of the liturgy, additional text has been added to the traditional words in two movements. For stanzas of Emily Dickinson's poem.
Peter Dent, January 19, 2004
The Music
1. Overture - Psalm 121: John Campbell, C.H. Purday
2. Introit & Kyrie
3. Offertory
4. Sanctus
5. Pie Jesu
6. Angus Dei
7. Libera Me
8. Postlude - What a Friend We Have in Jesus: Joseph Scriven, C.A. Converse
Conductor: Peter Dent;
Soloists: Kelly Crook - Soprano, Bonnie McCoy - Soprano, Richard Williams - Baritone
Instrumentalists: Peter Lang - Violin, Marc Seuss - Spoons, Peter Dent - Piano
Choir: The Pacific Singers
Contact and Purchase Information