Two Rivers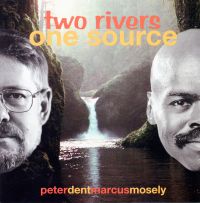 "Mosely and Dent are quintessential musical partners whose origins could not be farther apart. Therein lies the secret to their sound".

Dean Powers - Gospel Events Productions
The Music
1. Walk Around Heaven
2. Let Us Break Bread
3. Leaning on the Everlasting Arms
4. Lord I Want to be a Christian
5. Just a Closer Walk With Thee
6. Kyrie Blues
7. Were You There?
8. Battle Hymn of the Republic
9. Go Down Moses/Freedom
10. Blowin' in the Wind
11. In The Garden
12. Say Yes to the Music

The Players
Vocals: Marcus Mosely
Piano: Peter Dent
Drums: Tom Foster
Bass: Tim Stacey
Saxes: David Say

All arrangements by Peter Dent.

Contact and Purchase Information